Crank Your Muscle Gains To New Heights By Transforming 1 Gram Of Protein Into 3 Grams
Thanks to new Masszymes breakthrough ingredients in protein digestion and amino absorption. you can flood your muscles with critical growth-enhancing amino acids. WITHOUT eating and drinking any more protein. It's truly like turning 1 gram of protein into 3 grams.
As far as I know, I'm the only vegetarian bodybuilder to ever compete in both the IFBB Mr. Universe and the Natural Mr. Olympia. Even more shocking is the fact that I've been eating less than 85 grams of vegetarian protein per day for the last 11 years.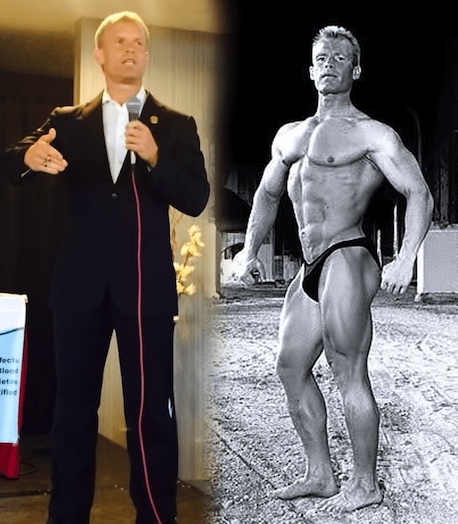 Are you taking over 100 grams of protein per day… from shakes, supplements, and food…but you're not making the gains you expect?
Do you ever feel bloated, gassy, and maybe even get the runs after downing a protein shake?
Do you want to increase the usable amount of protein in your body? I'm talking about protein that gets digested, enters into your bloodstream, and helps grow bigger, stronger muscle fibers.
Perhaps you've tried protein digestive aids, but I assure you: with this NEW nutrient, you'll transform your protein digestion, gut health, and ability to extract as much as 66% MORE key muscle-building amino acids from every bite of protein you consume!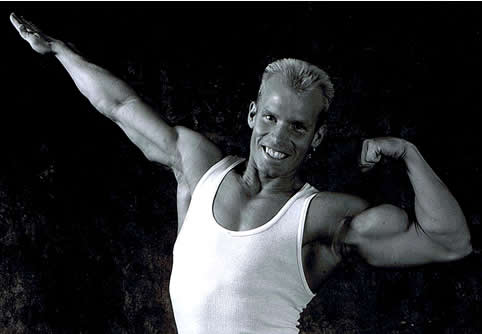 I apologize if my headline is "bad science". Of course, you can't turn 1 gram of protein into 3 grams (unless you're The Wizard Of Protein or something). However, most people only absorb a small fraction of the protein they eat.
And with a special blend of proprietary ingredients, you can break down 200% more protein into amino acids PLUS absorb over 50% more of those amino acids. So it's truly like turning 1 gram into 3 grams when you compare it with someone who isn't using this formula.
This Breakthrough Nutrient Is Called Masszymes—and Paired with the Industry's Strongest Protein-Digesting Enzyme Formula— Takes Your Muscle-Building to the Next Level!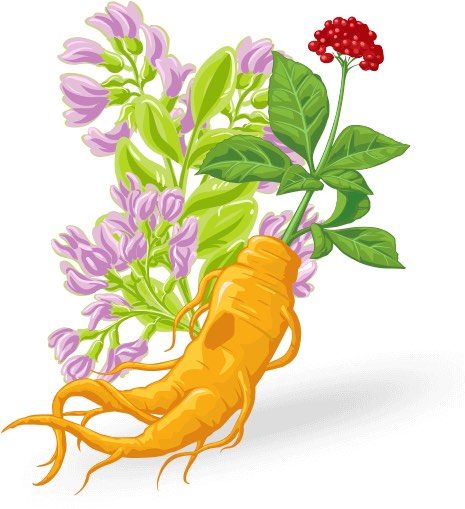 AstraZyme™ is a proprietary all-natural, plant-derived compound extracted from Panax ginseng and Astragalus using proprietary processing technology.
It has been proven in twelve In vitro studies to significantly enhance the absorption of many important nutrients — up to 66% more in certain cases — including key amino acids such as arginine, citrulline, and tryptophan… vitamins, such as folate… joint-protecting nutrients like glucosamine… and many more.
AstraZyme™ works by up-regulating protein transport on a DNA level, meaning it helps increase the amount of amino acids, glucose, vitamins, and other nutrients entering your intestinal cells.
Once inside the cells, these nutrients are transported by the liver to your muscles.
This is key: those nutrients that do not make it to your intestinal cells will be flushed down the drain.
That's the bad news. The good news is, MassZymes 3.0—the world's strongest protein-digesting enzyme for accelerated muscle-building—NOW has AstraZyme™ for even more potency and benefits.

The NEW MassZymes 3.0 Formula with AstraZyme™ Helps You…
Explode Your Muscle Growth
MassZymes 3.0 with AstraZyme™ helps make the industry's leading formula up to 30% more effective in passing nutrients through your gut, and up to 66% more on specific amino acids!
PATRICK WALSH
Quality
Value For Money
Great Muscle Mass Gains
Love this product, always feel confident in eating large meals and feeling great afterwards. Also seen great muscle mass gains in conjunction with my training routine.
Faster Recovery
With bioavailability of amino acids you'll repair muscle fibers faster and grow bigger; plus, AstraZyme™ helps buffer catabolic oxidative attack on muscle cells post-exercise and reduces inflammation.
MARTHA VOGLER

Quality
Value For Money
Thrilled With How I Feel And Look
Immediate Results! I was blown away by the difference in my energy level and impact on my body composition. We had never considered taking an enzyme supplement until I heard about Masszymes. I am glad I tried it. Thrilled with how I feel and look. Will be a permanent part of my wellness routine. Thank you for making a supplement that really works!
Stronger, Healthier Digestion
Undigested protein isn't just wasted—it's toxic! That's why so many bodybuilders and gym rats suffer from "protein bloat"—because it putrefies and becomes gas, bloating and puffiness.
CYNTHIA MATHES
Quality
Value For Money
Masszymes:
Changed My Digestion Completely
I no longer have any gas or bloating with any meal I eat. It has changed my digestion completely.

We've All Been Sold A 10 Lb Jug Of "The Protein Lie"
Starting in the 80's, supplement companies began pushing massive protein consumption. We all believed that "MORE PROTEIN = MORE MUSCLE GROWTH".
I'm here to tell you that IT'S A BIG FAT LIE.
Let's say you eat an 8 oz chicken breast. You're consuming about 40 grams of protein.
However — just because something contains 40 grams of protein… it doesn't necessarily mean you're gonna absorb all 40 grams. Without enzymes, most of it ends up in your toilet bowl.
This is because your small intestine can only absorb protein that's been broken down into smaller building blocks — called amino acids.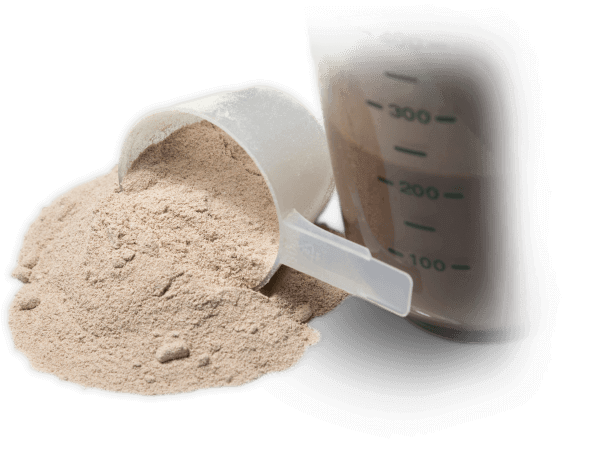 Here's the biggest lie from the industry: You need more protein to build more muscle. The truth has been hidden away until now. Keep reading below.
Absorption Is Everything. How to Start BiOptimizing your Protein Intake
Potent enzymes called proteases break down protein into absorbable, anabolic amino acids… which are what your muscles require for recovery and growth.
It doesn't matter if you're consuming 30 grams of protein… or 300 grams of protein — if you don't have a sufficient supply of enzymes to digest the protein, your muscles will be starving for those vital building blocks.
A great enzyme formula contains various proteases that work at different pH levels. This ensures that the protein gets broken down into amino acids at every stage of digestion.
TJ JOHNSON
Quality
Value For Money
Masszymes:
Helps Digest Proteins
Masszymes is a top of the line digestive enzyme. It does exactly what it says that it will do, which is help you digest hard-to-digest proteins as meats and protein shakes. I take Masszymes every day because they work!
Crank Your Anabolic Drive To New Heights ByFlooding Your Muscles With Maximum Amino AcidsWithout Increasing Your Protein Intake By A Single Gram
Now that you understand the power of enzymes, it's no mystery why I can easily build muscle mass by eating only 85 grams of vegetarian protein a day.
If you're eating meat, fish, and eggs, enzymes are even more crucial because every time you eat cooked food, your body withdraws enzymes from your "enzyme bank account" to digest the meal.
The more cooked food you eat (this includes almost every protein powder) — the worse it gets.
The enzymes get drained faster and faster… leading to digestive nightmares. All this undigested protein leads to a disgusting caked-up intestinal tract that blocks amino acid absorption.
If you're dropping toilet bombs that peel the paint off the gym walls, then you KNOW there's a serious problem going on in your gut.
The truth is: if you're not using enzymes — you've got a serious handicap when it comes to putting on lean muscle mass. You're lucky if you're absorbing 40% of the protein from your food.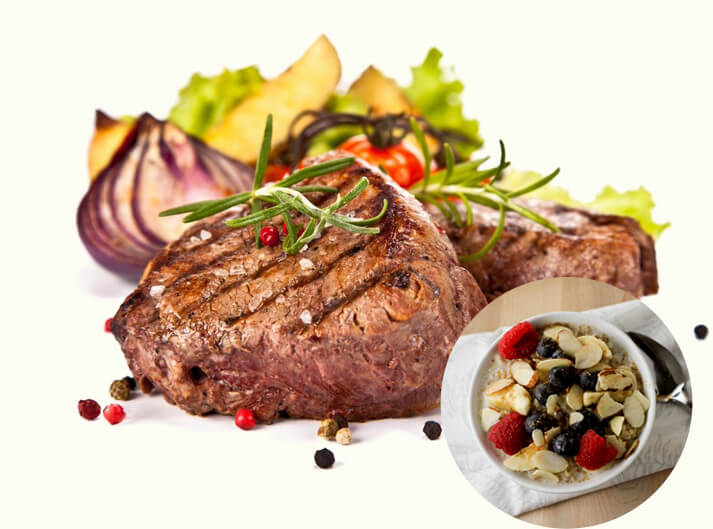 If you're eating meat, fish, and eggs… enzymes are even more crucial for you. Pooping isn't something I have talked about much in the past…but I have to say, this product is the one game-changer for me in this area! Everyone pushes magnesium and I take that too but this is the one that really made a difference. I didn't even know what bloating was because I experienced it every day…now I don't and my bounce is back in my step :). So glad I learned about enzymes and gave this a try!
Science Has Shown Proteolytic Enzymes Speed Up Recovery…So You Can Hit The Gym Harder And Grow Faster
Exercise scientists have published some remarkable research about proteolytic enzymes in the past decade.
Most notably, a study by Beck et al in 2007 demonstrated a "statistically significant" difference in recovery time between subjects given proteolytic enzymes… and subjects given a placebo.
"Statistically significant" is critical — because it means the results were real, and didn't occur due to random chance or the placebo effect.
Here's what happened: the men in the study were given strength tests throughout a two week period…
At the end of the study, the group given the proteolytic enzymes was able to produce greater overall force with their muscle, leading the experimenters to conclude recovery was quicker.
KEEP THIS IN MIND: faster recovery = more time and opportunity for muscle growth.
Masszymes:
Watch Enzymes Break Down a Piece of SteakRight Before Your Eyes
When I began consuming medical-grade cultured enzymes myself, the results were astounding.
I got back into shape (195 lbs @ 7% body fat) in less than 4 months — while my energy, brain function, and strength soared to new heights.
…all while taking in only 85 grams of protein per day…from plants.
Muscle soreness from training dropped radically and joint pain disappeared.
People would comment to me — "You're glowing! How do you have so much energy?"
My body needed less sleep… and my digestion, elimination, and libido was stronger than ever before.
The Shocking Truth About Enzyme Formulations
Before you run out and buy a bottle of enzymes, you need to know exactly what to look for.
The sad truth is most enzymes are of little to no value if you want to build muscle.
The hefty costs stop most companies from developing and stabilizing proteolytic enzymes…
And stability is crucial because enzymes are most effective when they're active in the broad pH range of your digestive tract.
The economics drive most supplement companies to produce cheap, weak enzymes that don't work in order to inflate their profits.
Instead, they produce enzymes that are either: animal based, enterically coated or contain little to no protease.
Here's The Most Critical Factor About Enzyme Supplements:
They need to be loaded with protease… Protease is king for a hard training athlete — because you need a massive amount of amino acids for your muscles to recover and grow from your tough workouts.
Protease is also the most expensive enzyme to produce, and there are several kinds of protease enzymes.
Most formulations are stuffed with cheap amylase (digests carbohydrates) and low quality lipase (digests fats)… while protease tends to be low in both quality and quantity.
Noticing a gap in the market, and not being able to find anything I'd use myself…
Masszymes: We Partnered With The Top Enzyme Scientists In The World And Created The First Ever Enzyme Formula SpecificallyDesigned For Weightlifters, Bodybuilders And Athletes
My partner and I worked hand-in-hand with the formulators to create THE STRONGEST PROTEIN DIGESTING ENZYME FORMULA EVER.
We told them to jam as much protease as possible inside each capsule.
The genius scientist we worked with suggested we combine 5 different kinds of the strongest proteases.
They warned us it would be VERY EXPENSIVE to produce.
They asked us over and over again, "Are you sure you want this much of the key ingredients in it? We can cut them back to reduce the cost."
Each time, we said: NO!
We didn't care about the cost.
Forget half-ass formulas that don't work.
Our goal was simply to create the greatest enzyme supplement ever, regardless of the cost.
We went "ALL IN"…
The result?
We're ecstatic to announce that we have developed the strongest protease enzyme formula ever: MassZymes.
That is NOT hype.
Our formula contains 100,000 HUTs of protease per capsule. There's not a single enzyme formula on the market that can compare. We literally looked at every enzyme label we could find and they all came up short.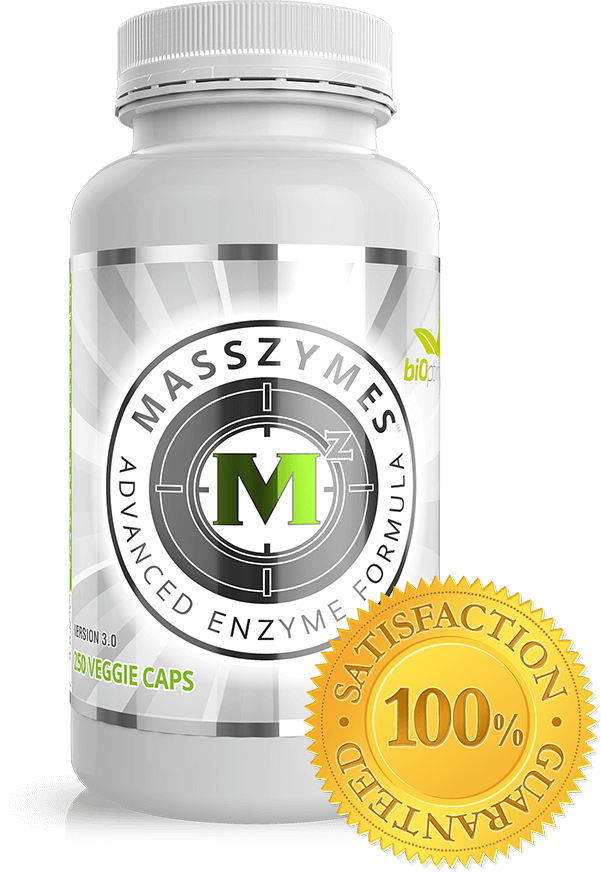 MassZymes is the most powerful protein-digesting enzyme on the market. See the comparison chart below.
MassZymes 3.0 with AstraZyme™ Takes This to a Freakishly Strong Level
Here's the best part: as good as the original MassZymes Formula was (you can see how many strength leaders say so on this page) — we've REFUSED to rest on our laurels.
So we did extensive research and found AstraZyme™ to be THE single most effective way to multiply the potency of the formula and provide you with even more muscle-building benefits, such as:
Increase your absorption of key amino acids, like arginine (key for blood flow, "pump" and testosterone) by up to 66.7% … citrulline (critical for fat-burning) by 45%… and tryptophan (essential for sleep, GH and recovery) by 52.5%
Boost your absorption of certain vitamins, like folate, by up to 50%
Increase the joint-protecting benefits of glucosamine absorption by 42%
Heighten your glucose absorption by 55%, speeding muscle recovery
Repair damaged intestinal wall, which is where most absorption problems occur
And lift your overall energy level by as much 18%